Submitted by
Marieke Quinten
on 10/07/2021 - 06:00
Afbeelding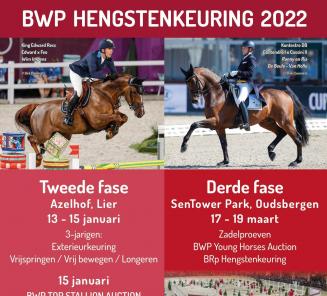 The dates of the BWP stallion approval have already been communicated; now the enrollments can officially take place.
Like each year, the BWP Stallion Selection is spread over three phases : The first phase is already running and concerns the veterinary examinations in the Faculty of Veterinary Medicine in Gent. Candidates have to make an appointment before October 15, 2021 (+32 09/264.76.18).
The enrollments of stallions for the second and third phases of the selection and the auction must arrive at the BWP Secretariat before November 15, 2021.
More info concerning the stallion approval, how to enroll, the enrollment file, (checklist), ... can be found here.
The Second Phase takes place January, 13-15, 2022, in Azelhof in Lier. The Third Phase March 17-19, 2022, in SenTower Park in Oudsbergen. The BWP Top Stallion Auction wiil again be organized on Saturday, January, 15, 2022.